Jag Precision x Taran Tactical International Licensed JW3 Master Gas Blowback Pistol (TTI - Full Metal - Black)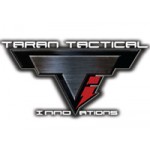 Availability:
Out of stock

Buy Now Pay Later (Quick Finance)
Video Review
Gun Specifications
Used by none other than John Wick himself, aka Baba Yaga / The Boogeyman / The man you send to kill The Boogeyman
CNC precision barrel in rose gold
Green Gas Powered
Adjustable Hop-Up
315-330 FPS
Semi-Automatic
Gas Blowback
30 Round Gas Magazine
Stippled Pistol Grip which provides a comfortable, slip-resistant grip
Metal slide with "Taran Tactical Innovations" marking
Metal outer barrel with "9X19" engraved marking
Metal front sight and rear sight
Metal recoil spring rod
Metal frame with accessory rail and engraved marking
Plastic non-slip grip covers
Metal trigger, magazine release
Related Items
Pistols
John Wick3 Combat Master Hi-capa GBB Gas pistol
Sand Viper standard version GBB gas pistol
Alpha IPSC with RMR DX version Combat master GBB gas pistol
Alpha IPSC version Combat master GBB gas pistol
Magazines
Alpha TTI 42rd Hi-capa Extended gas magazine
Armor works 30rd Hi-capa standard gas magazine
Holsters
Deadly Customs Kydex Holster DC1 Hi-Capa Holster (Black)
Big Foot 5x79 Standard Holster (Black)
About Taran Tactical Innovations
Taran Butler was born in Hollywood and grew up in Southern California on a horse ranch watching cowboy western films and shooting single-action revolvers and lever-action rifles at cans with his brother. His first taste of competitive shooting took place at a local indoor event with a Glock-24 borrowed by legendary stuntman Bruce Barber (The truck driver from First Blood with the m60 in the back of the truck ).
He shot his first Southwest Pistol League match in January 1995 placing 7th out of 118 shooters. He went from unclassified to Grandmaster in just a little over a year and was the first person in USPSA history to do so using a Glock.
Over the years, Taran has gone on to win 23 consecutive South West Pistol League Championships in the open and limited division. For his excellence, he was honored with the covetous title of Combat Master; A title only held by 18 other legendary shooters such as Jeff Cooper ( First Ever Combat Master), Ray Chapman, Mickey Fowler, and Mike Dalton.
He has won major pistol championships in USPSA Open, Limited, Limited 10, Production, and Single Stack divisions. He has won IDPA National titles, Steel Challenge World Championships, and IPSC World Shoot Gold Medals in countries around the world.
Taran is the first ever USPSA Multigun National Tactical Champion. He is considered one of the most versatile shooters in the world. He is also the first and only USPSA Multigun Triple Crown National Champion by winning the Limited, Tactical, and Open Divisions.
He has won the SSM 3-G Championship for eleven years in row; the longest winning streak in 3-gun competition history. Taran is the only person to every win the Arizona Triple Crown by winning the Western States Single Stack Championship, SSM 3-G Championship, and Area 2 in Limited and Open divisions in the same year.
He has won all three of these matches, three years in a row. Taran won the Ft Benning Open Championship against the best Open Division shooters in the world.
Taran has trained movie producers, directors and actors including James Cameron, Michael Mann, Keanu Reeves, Shemar Moore, Michael B Jordan, Jennifer Garner, Collin Farrell, Chris Hemsworth, and Josh Duhamel.
Taran has worked on location or hosted movie training at his 20 acre range for many films including Public Enemies, Miami Vice, Transformers, The Kingdom, Avatar, and Savages. Taran is a reoccurring guest expert on History Channels Top Shot.
More Information

| | |
| --- | --- |
| SKU | 110833 |
| Brand | Taran Tactical Innovations |
| Weapon Category | Pistol |
| Weapon Powered By | Gas |
| FPS | 301 - 350 |
| Construction | Metal/Polymer |
| Hop Up | Adjustable |
| Variant / Platform | Hi-Capa |
| Blowback Guns | Yes |
| Recoil | No |
| Shell Ejecting | No |
| Fire Mode | Safe/Single |
| Accuracy | Realy Really Reallly Good |
| Action | Single Shot |
| Construction | Metal |
| Colour | Black |
Delivery
Our courier partners deliver from Monday to Friday, excluding Bank Holidays. We will attempt to dispatch all packages within 24 hours, although at peak times this may take slightly longer. Orders with products with two-tone service or Defence Check may take longer to dispatch.
Once the order is dispatched you will get an email with the tracking number and which courier partner it's going to be delivered via. Any missing/incorrect items need to be reported with 48hrs of signed delivery.
Returns
Click Here to Download the Returns Form (PDF Format)
Faulty Product?! Unfortunately that is part of life but be rest assured we are here to help! Contact one of our friendly staff via phone or email. Stating what the problem is, if we can resolve the problem via phone or email great if not then they will advise how to send it back and what details we require.
Two tone
We can two tone any weapon we sell at Bespoke Airsoft. The purpose for two toning is if you do not hold a valid defense under the Violent Crimes Reduction Act (VCRA, 2006) which is to prevent the misuse of Replica Weapons, which applies in England, Scotland, Wales and Northern Ireland.

The gun will be sprayed 51% in a bright/primary color (we do only blue, green and red currently). The process of two toning currently runs at 2 working days depending on Drying Time, which is effected by Ambient Temperature and Weather. and currently no express delivery is available for this even if you select it at checkout.